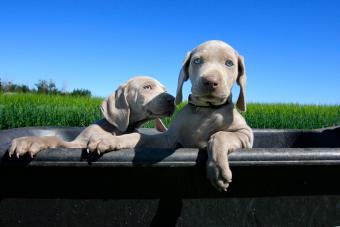 If you're looking to buy a dog online in Australia, it's important to ensure you don't get caught up in a dog scam or unintentionally support cruel puppy farms. Choosing a reputable breeder can help avoid the risks that come with buying your companion animal online.
Should You Buy Dogs Online?
It's okay to buy a dog online provided you meet the dog in person first. The best place to buy dogs online in Australia is through an animal welfare organisation or reputable breeder.
The RSPCA suggests adoption as a first choice and recommends getting a dog from one of its animal shelters or another reputable animal welfare or rescue organisation. It warns against buying from a pet shop, market, or via an online or newspaper ad without seeing the dog's home first. This is to ensure you're buying from an ethical breeder.
Some social media and online market platforms in Australia allow dogs to be bought and sold online, while eBay and Amazon do not.
How to Buy a Dog Online
You can buy a dog online in Australia by visiting a reputable animal welfare or rescue organisation such as Adopt A Pet.
Never buy a pet unseen and look for websites that follow RSPCA guidelines for the online advertising of pets, so you know you're supporting an enterprise that takes animal welfare seriously.
Before deciding which breed best fits your lifestyle, research the potential health issues your chosen breed could face down the track and only buy a dog from a reputable breeder who tests for these issues.
How Much Does It Cost to Buy a Dog in Australia?
Buying a dog in Australia can range from a couple of hundred dollars for a rescue pet, to thousands for a designer breed.
The average dog costs around $627, with pure breeds at $850, designer breeds at $765 and mixed breeds at $310, according to a 2019 national survey by Animal Medicines Australia.
There are also upfront costs such as vaccinations, microchipping, dog registration, and desexing.
In most states, it's compulsory to microchip your dog, which costs an average of $70. Desexing costs about $200-$500 depending on the dog's age, gender and size. Puppy vaccinations range from $170-$250 while council registration is between $23 to $201.
Dogs adopted from the RSPCA have the costs of desexing, initial vaccinations, worm and flea treatments, and microchipping already covered. The microchip identification number lets you search for information on a dog via an animal database.
How to Avoid Dog Scams and Puppy Mills Online
A reputable breeder will let you meet the dog, see its breeding place, and meet its mother and father too, if possible.
They'll be open to your questions about the puppy's history, its temperament and any known genetic disorders, according to the RSPCA.
The breeder will be genuinely concerned about their dogs' welfare and knowing you'll be a responsible owner.
The puppies will have had a full vet check, vaccinations, microchipping, and parasite treatment before being sold, and a good breeder will be happy to provide you with these records.
They should also talk to you about desexing, training, socialisation and local government registration requirements.
Depending on location, some breeders will require local council registration. By contacting their local council, you can find out any registration requirements and guidelines that should be followed.
A trustworthy breeder should be able to back up what they've told you with references and provide a guarantee, support, and information, even after you buy. They will allow you to return animals if they have issues relating to an inherited disorder.
How to Spot a Dog Scammer
In 2020, pet scams cost Australians more than $2 million, Scamwatch reports. Scammers pretend to sell popular breeds using fake websites, online or classified ads. They usually ask for you to transfer money upfront to pay for the dog and have it delivered to you. Once you've paid, the seller cuts all contact.
To avoid dog scams:
Always meet the dog in person before you buy or adopt and be suspicious of anyone who tries to sell you a dog unseen.
If the price seems too good to be true, it probably is.
If the ad doesn't tell you much, including whether the dog is microchipped, desexed, how it has been bred or sourced, the seller may be dodgy.
Never send money or give credit card or online account details to anyone you don't know or trust.
Check the breeder's credentials from a reputable breeders' association, vet, or local pet shop.
How Do You Know if It's a Puppy Mill?
Puppy mills, also called puppy farms or puppy factories, are where puppies are bred on a large scale under poor conditions.
The dogs often have health and behaviour issues because they have been raised in overcrowded, unhygienic environments where there has been a lack of care, play and socialisation.
The females are used to pump out multiple litters until they are no longer able, then in most cases, they are put down.
Puppy mills often supply multiple breeds for sale via pet shops and classified ads.
The seller does not want you to see where the dogs are bred.
They are always advertising and a large number of puppies are for sale or always available.
You aren't allowed to meet the puppy's parents.
The breeder can't tell you much about the puppy's personality, background and parents.
The breeder does not seem interested in whether you'd be a responsible dog owner or not.
Where to Buy Dogs Online in Australia
If you can't find your furry match at your local RSPCA or animal rescue shelter, you need to find a good breeder who provides animals a high standard living environment and wants to see their puppies go to a caring home.
By asking the right questions, you can make sure they are reputable. If in doubt, seek help from:
Local breed clubs
Your local vet
Dog trainers
Australian animal welfare groups.
Make Sure Your Purchase Is Above Board
When buying a dog online, it's important to ensure you're buying from a good breeder to avoid supporting a puppy farm or getting tangled in a dog scam. You'll get the best results by researching where your pet is coming from and asking the right questions to ensure your purchase is above board.